Software Solutions
Learn More
Company Information

WHAT is CAEPIPE?
Watch this fast, fun, and easy to understand explanation of what CAEPIPE pipe stress analysis software is and how it is used throughout the world.
SST CLIENTS More






About SST Systems, Inc.
We offer smart, sensible and fast solutions for piping design and stress analysis.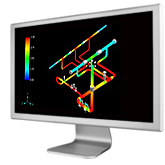 Our 30+ years of experience at the front line combined with a broad array of software products and services makes life easier for you (and your time more profitable!).