Software Solutions
Engineering Services
Learn More
Company Information
Recent User Stories
Vacuum Jacketed Piping System
Roberto Yatming Than
Cryogenic Systems, Collider-Accelerator Department
Brookhaven National Laboratory
Here at the cryogenics department of the Relativistic Heavy Ion Collider vacuum jacketed piping system is used to supply liquid helium cryogen (-452°F) to superconducting magnets and experiments. To transport cryogen over piping systems, vacuum insulated piping is used. The jacket pipe will see full vacuum (10-6 Torr) once evacuated and cold. The process pipe material is commonly SS304L and jacket materials is also typically stainless steel 304. The primary stresses are typically low, but the secondary (thermal stresses) dominate the design.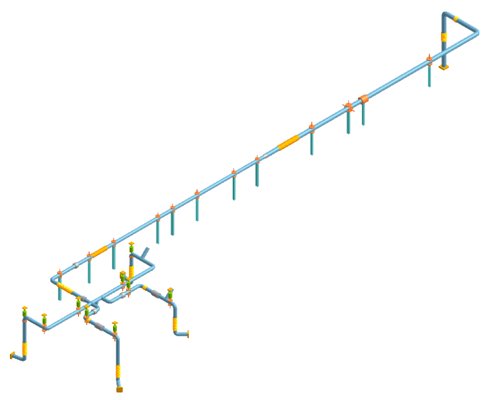 To handle the thermal stresses, the preference is to engineer the system with no bellows or braided flexible lines. This minimizes complexity and number of welds to minimize the chances of a leak into the insulating vacuum jacket space. This of course required careful stress analysis, and when required braided flexible sections or bellows are used both in the process piping and on the jacket to keep the stresses below allowables.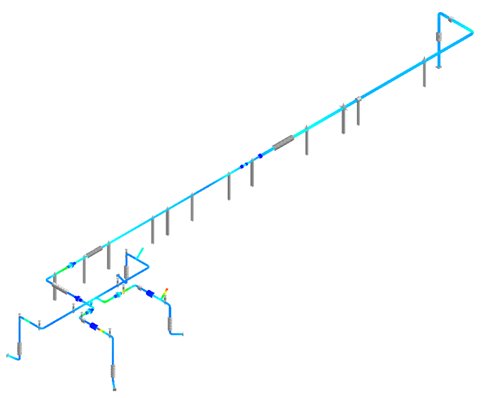 The jacket pipe is an integral paart of the piping system, since it contains piping guides for the internal process pipes, anchors from the jacket pipe to the internal process pipes, sometimes bellows, and will have the external pipe supports. The internal process line will typically contain flexible lines and vacuum jacketed valves. Thus both the internal process pipe and jacket are modeled in CAEPIPE.
High Temperature Furnace Coils
Art DiNicolantonio P.E.
President DiNicolantonio Engineering
I worked for a major oil company as a Lead Furnace Specialist from 1965 until 1999. I have been their chief furnace consultant since 1999. As a consultant, one of my functions is to perform stress analysis on high temperature furnace coils and piping systems, design coil supports, and modify coil configurations to minimize thermal distortions. I started using Caepipe for piping flexibility analysis in 1986 and continue to use it today. I have compared Caepipe to numerous other piping flexibility programs. I find Caepipe has better graphic display capabilities and is more user friendly than all the other commercially available programs. It allows me to make changes to piping configurations, materials, and loads extremely easily. The Graphic displays allow me to quickly find any errors I have made in programming the piping system. It also allows me to see the thermal and static movements of the piping system which simplifies selection and or modification of support points and loads.
Get your free evaluation copy HERE. For more information or to place an order, call 1-408-452-8111.