Software Solutions
Engineering Services
Learn More
Company Information
CAEPIPE Troubleshooting
Win 9x/Me Users
Download Missing DLL files (0.35MB) (exe) OR Missing DLL files (zip) (0.35MB) only if you get an "Unable to Locate DLL" problem when you run CAEPIPE.
When prompted to save the file, save it to a temporary folder. Double click on "w9xdll.exe". Type the full path to where CAEPIPE program files are located. When finished, REBOOT YOUR COMPUTER before executing CAEPIPE.EXE.
USB ***SuperProNet Key Not Found*** Status = 3 Error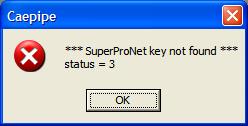 If you get a USB "*** SuperProNet key not found *** status = 3" message:
A. Make sure that the USB hardware key (Stand-Alone key is black and Network key is purple), when connected to the USB port of the device, has a steady green LED light. If the light does not come on, it may be indicative of a faulty USB hardware key. Let us know if this is the case so that we can arrange to ship out a replacement USB key.
B. Make sure the USB hardware key is connected and the USB hardware key driver is installed on the device. The driver is available for download here: Driver Download. The download link is in middle of the page under the heading "CAEPIPE Hardware Key Driver and License Manager".
C. If the key is connected and the driver is installed, try connecting the key to a different USB port and restarting the device. It's possible that the USB port itself might be going bad on that device so this is a way to test that.
D. Further troubleshooting techniques to resolve this specific error are covered on the following pages:
Please verify that each setting described in the links above is correctly configured on the device. This will eliminate most of the root causes leading to the SuperProNet key error.
Wrong Serial Number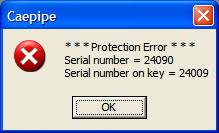 If you get a "*** Protection Error *** Serial..." message:
A. If you have multiple stand alone keys in your possession, the CD used in installation must have the same serial # as the key.
B. If you have multiple network keys in your possession and multiple servers, the NSP_HOST (more details) must point to the server with the same serial # as the CD used in installation.
C. OR, we could have goofed up by sending you a version file mismatched to the hardware key. Our apologies...contact us for a solution.
All Licenses Are Currently In Use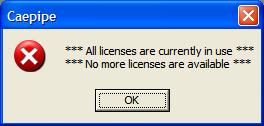 If you get a "*** All licenses are currently in use ***" message:
A. All licenses availible are being used.
B. In rare instances, if a computer using a network license was to crash or exit CAEPIPE inappropriately, a network license might not have been released. This would cause the server to believe the computer is still using CAEPIPE and make it unavailible to anyone else. Rebooting the server or restarting the Sentinal Protection Server service (more details) will resolve the problem.
Safe-net also makes available an online hardware key monitoring tool that shows how many licenses are in use and which IP addresses they are currently assigned to. Instructions on how to use this tool can be found on Page 5 of the Safenet Readme.pdf document.