Software Solutions
Engineering Services
Learn More
Company Information
Top Reasons Engineering Managers Pick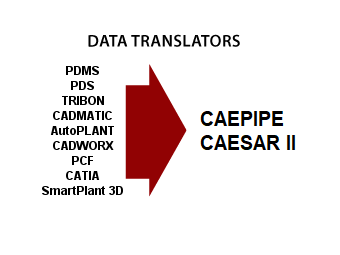 Overview
SST offers many effective and verified dataTRANSLATORS whose chief function is to read in the piping model data available in different third-party formats and convert them to CAEPIPE (or other) compatible format. Of course, the major benefit of these translators is immense cost-savings (and time) to the company, because you, as a piping stress analyst, do not have to "re-input" the same data in CAEPIPE (or other), thus saving you a lot of time and effort. This also eliminates errors that may creep in while manually re-inputting the data. Please browse through the different available titles or call +1 408-452-8111 if you do not see your 3D platform listed.
To CAEPIPE
To CAESAR II
To PDMS
Other
You are welcome to read a brief description of capability and download a free 7-day evaluation copy. Be sure to read the Installation Instructions before installing.
Click HERE to view a short video tutorial on downloading, installing, and activating our translator software.