Software Solutions
Engineering Services
Learn More
Company Information
CAEPIPE Analysis

CAEPIPE performs linear and non-linear static and dynamic analyses of 3D piping systems using optimized, tested and verified solution algorithms using some of the most advanced programming methods available. Below, you will find a sampling of the types of analyses you can do with CAEPIPE.
See Video of Analysis Speed in action
Types of Loads
Weight and up to 10 pressures (i.e., up to 11 sustained cases)
External forces and moments for up to 10 thermal cases + 1 max sustained case
Hydrotest case
Up to 10 thermal loads with 50+ thermal range (expansion)
Up to 10 thermal displacements for anchors and nozzles (expansion)
Up to 10 operating cases (combination of weight, pressure and temperature)
Flange equivalent pressures for 10 operating cases
Rotating equipment reports for 10 operating cases
Up to 4 wind loads (occasional cases)
Seismic anchor movements (occasional)
Static seismic acceleration (g-load)
Force spectrum load
Seismic response spectra
Harmonic loads, e.g., periodic excitation from equipment such as pumps (occasional)
Time history loads, e.g., a fluid hammer (occasional)
Non-repeated anchor movement (settlement)
Peak pressure for occasional loads
95+ load combinations
Support Load Summary for 150+ load combinations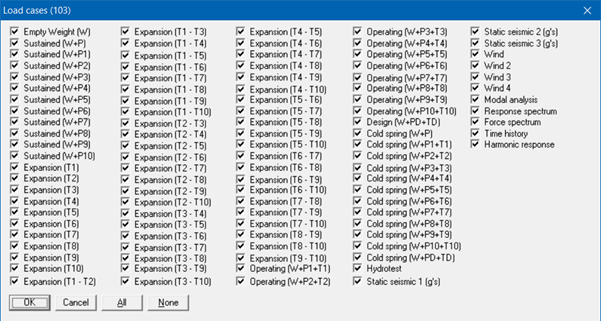 Load cases you can select for analysis
Automatic Spring Hanger design from a library of 30+ hanger catalogs
Modal Analysis – Fast Eigenvalue solver
Seismic Response Spectrum Analysis
Support for Multiple Spectra Types


Frequency (or period) versus Displacement
Frequency (or period) versus Velocity
Frequency (or period) versus Acceleration

Linear or logarithmic interpolation

Multiple units supported

Spectra can be entered interactively or through a text file


Closely Spaced Modes (using NRC Reg. Guide 1.92)
Time History Analysis
Time functions can be input inside CAEPIPE or imported from a text file
Harmonic Analysis
Force Spectrum Analysis
Force spectra functions can be input inside CAEPIPE or imported from a text file or can convert existing time functions into force functions.
FRP Piping Analysis
Buried piping analysis including automatic discretization of elements as per ASME B31.1(2014)