Software Solutions
Engineering Services
Learn More
Company Information
CAEPIPE Interactive Results Review

Interactive and organized output screens are among the helpful features unique to CAEPIPE.
No cumbersome check marks to select before viewing a flat Notepad-type non-interactive results file. One keypress takes you through the different available results. Interact with any screen to see other available results.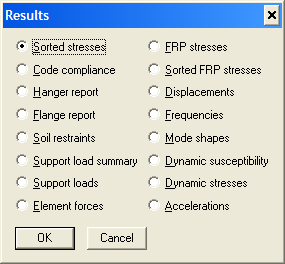 Sorted Stresses
Flange Report
Support Loads
Mode shapes
API 610/617/NEMA SM-23 for Pumps/Compressors/Turbines
Code Compliance
Hanger Report
Displacements (Deflected shape, see figure below)
and more...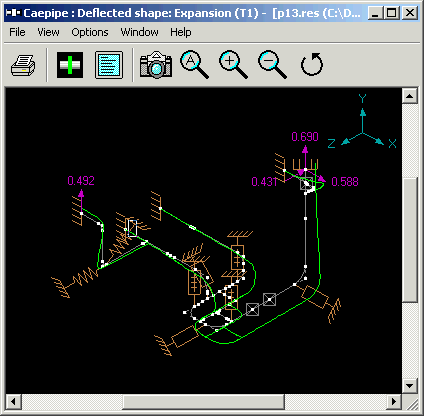 A deflected shape for the thermal expansion case
Flexible joint displacements
Response Spectrum Accelerations
Center of gravity and weight of the piping system
Mode shapes and animation
Visual display of displacements for all load cases
Visual display of stresses and their ratios
Element forces/moments in local/global systems
Frequencies, participation factors and effective modal masses
Descriptive input and output information can be printed to a file or a printer without having to exit the program
Organized format and hence easily understandable
Date and time of analysis on report
Table of contents for easy lookup of reports
Bill of materials
CAEPIPE reports are easy to read and well-organized! Many users just love the simple format of CAEPIPE reports.