Software Solutions
Engineering Services
Learn More
Company Information
CAEPIPE Modeling

CAEPIPE helps you to rapidly design and analyze piping systems of any complexity with the least effort. It continues to be the easiest, fastest, most cost-effective, feature-rich and technologically peerless software tool in the pipe stress software market.
Learn more about
Modeling Features (this page)
Features Unique to CAEPIPE
Multiple open windows providing simultaneous visual and textual feedback on different aspects of the model. Aids rapid and accurate understanding of model details and its response to loadings.
Synchronized Highlight (in all open windows) for easier pinpointing of nodes, elements and other items. Eliminates confusion and helps you to focus on the issue.
Dynamic updating of data across all windows (make one change in one window and all other windows reflect the change). Fewer keystrokes and mouse movements to go through; Flexibility and instant visual feedback.
Advanced MS-Windows technology for fast operation (memory mapped files, intelligent repainting, multithreading etc.). Results in extremely fast operation, and quick analysis times.
Single-click editing in Graphics window for alternative modeling. Two ways of editing model (not forced to textual screen editing only).
Pipes, Elements, Components and Supports
Model straight pipes, elbows, bends, valves, concentric and eccentric reducers, tees, miters, rigid elements and more. External insulation and internal lining can be specified for pipes.
Model expansion joints (such as slip, ball, hinge, bellows (tied and untied), gimbal, and universal joints) and elastic elements.
Model Jacketed pipes and jacketed bends - specify separate temperatures and pressures, separate materials and sections for core and jacket pipes. Spiders and endcaps can be specified, too.

Model cold springs, cut short or cut long.
Model beams and support structures. You can specify beta angles and end releases for beams. Shear deformation for beams is included, too.

Model tie rods (with different stiffnesses and gaps in tension/compression)
Support/Restraint types: Model anchor blocks, spring hangers, clevis hangers, constant support hangers, rod hangers, guide/pipe slide assemblies, sway braces, sway struts, vertical 1-way supports, 2-way restraints, U-Bolts,U-straps, clamps etc., using generic rigid/flexible support types. Include anchor and nozzle movements (thermal, seismic and settlement).

CAEPIPE displays units for each item on the screen

. You do not have to search for it on different screens as in some other programs. See example screen shot below.

Locate nodes in the model in an instant by using the search node feature.
Built-in SIF components libraries from ASME B31.x, ASME Section III, European EN and other international codes. User-SIF: Apply your own Stress Intensification Factor to override internally calculated SIF.
Option to internally compute SIFs and Flexibility Factors (FFs) for ASME B31 pipe fittings using ASME B31J.
Non-linearities. Model gaps using limit stops (such as in pipe slide/shoe assemblies), including friction at supports and expansion joints.
Ability to model supports connected to other nodes of the same piping system.
Flange report (allowable flange pressure and gasket diameter required).
Lists of components/fittings/supports such as bends, hangers, reducers, anchors etc. for quick review and editing.
Simple and Elegant User Interface
CAEPIPE has a well-designed user interface with drop down menus and descriptive dialog boxes that make for efficient modeling sessions.
Full Mouse Support - The Way You Expect
Full mouse support is provided in text and graphics screens. Just point and click on an element to edit its data. If you are a keyboard user, shortcuts are aplenty.
Interactive Graphics - Intuitive, Clean and Stunning
Pan, zoom, rotate, change viewpoints and more. Ideal in a two display unit system, CAEPIPE graphics can be on one and the text screens could be on the other, just like in an expensive CAD system.
Watch Video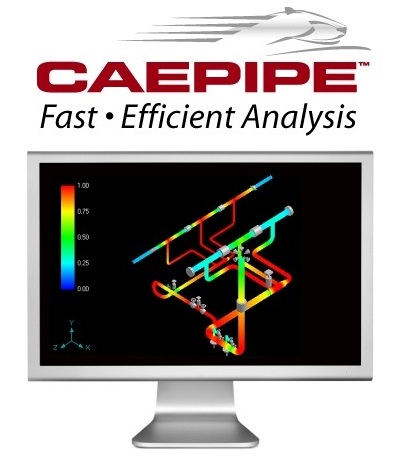 Graphics Highlighting
Use this feature to pinpoint any component, view branch lines only, or view lines subject to a specific pressure/temperature.
Block Operations
Change material, temperature, pressure, pipe size and friction coefficient for a range of elements. Generate copies of existing pipelines in an instant with simultaneous graphics update. Rotate a whole or a part of a model about any axis in one operation. Add slope to a whole pipe run, and more.
Simultaneous Error Checking
CAEPIPE detects errors as they occur on the input screen (some programs report errors after you exit the input module).
Units in Combination
CAEPIPE allows you to keep all units in Metric or English or SI. You can customize each item (pressure, stiffness etc.) to have different units.
Many Piping Codes supported
ANSI/ASME
B31.1
B31.1 (1967)
B31.3
B31.4
B31.5
B31.8
B31.9
B31.12
ASME Section III Class 2
ASME Section III Class 3
International
British BS 806
Canadian CAN/CSA Z183
Canadian CAN/CSA Z184
Canadian CAN/CSA Z662
IGEM
Norwegian
French RCC-M
French CODETI
Dutch Stoomwezen
Swedish
European EN13480-3
Rotating equipment
NEMA SM-23 (Turbines)
API 610 (Vertical and Horizontal pumps)
ANSI/HI 9.6.2 (Rotodynamic pumps)
API 617 (Compressors)
Analysis Options
Effects of axial force in stress calculations
Liberal thermal allowable stresses (by considering unused sustained stress)
Hot or cold modulus calculations
Bourdon effect, Pressure stiffening for elbows
Missing mass correction ("left-out forces")
Include Friction in Dynamic Analysis
Fiber Reinforced Piping (FRP) Modeling
Model FRP pipe with traditional piping
User-definable FRP material libraries
User-definable allowable stresses (axial and torsional)
Specify own SIF for any FRP component
Graphics shown uniquely for FRP piping
FRP forces and moments
FRP (sorted) stresses - hoop, longitudinal min/max, etc.
International Features
European, Indian and Japanese hanger catalogs
Vertical axis can be set to Z (or Y)
SI and Metric units and their combinations
Umlaut characters supported for names
International piping codes (see list above)
Built-in Libraries
Hanger catalogs (35 at last count)
ISO, ANSI, German (DIN) and Japanese (JIS) pipe sizes including elbow radii
ASME and DIN Flange libraries
Large Valve library (types, lengths, weights); User-definable too
Material libraries for commonly used piping materials for different piping codes (user-definable too)
Insulation materials and their densities
B31.1 and B31.3 Material libraries with over 400 materials
Nozzle flexibilities according to WRC 297, API 650 and PD5500
AISC library of beam sections (user-definable too)
SIF Values for different components from each piping code
Spectrum Libraries corresponding to El Centro, Uniform Building Code and Nuclear Regulatory Commission (NRC) Guide
Import/Export Capability
See Data Translators
And numerous other modeling features...